---
As Football Fanatics, we take the "fantasy experience" very seriously here at Fantistics. Our publisher is a Statistician who has be computing fantasy projections and valuation models for over 15 years. Did you realize that the vast majority of National Contest winners, are actuaries or accountants? Yes, the guys with the glasses and pen sleeves in their shirts!...incidentally quite a few of them are returning Fantistics subscribers.
Fantasy Football (along with the other fantasy sports) is a numbers (statistics) exercise. He who solves the "best fit" formula on draft day usually takes the prize, or is at least competitive throughout the season....and that's our goal, to make you competitive or give you that extra edge that brings you over the top, year after year.
Our 50+ years of player data allows us to not only produce respectable projections year in and year out, but it also allows you to dispel certain myths that have led many fantasy managers astray. In fantasy Sports it's not the quantity of information, it's the quality that counts.
Did you realize that last season, only 45% of the Top Thirty Wide Receivers were within 30% of their previous season fantasy stats? ...and contrary to popular belief, 80% of the top 10 kickers are within 30% of their previous season stats.
Sure, our projections will help you, but its Not necessarily who to draft...it's how to draft. The section below introduces you to the Fantistics Draft Strategy:

The Fantistics draft day strategy has been described as the definitive concept to winning on draft day. Value Above Mean (VAM) is a computation that measures a players' fantasy worth versus others at their respective position/s. In other words, what we do is take the average fantasy values for the typical number of fantasy starters at each position. This average serves as the standard that we compare all others at that particular position by. To further the effectiveness of this concept, based on our research, we assign probabilities based on the predictability of the position categories. In a perfect world, we compared this strategy against "simulation owners" who were set to draft according to total fantasy points (TFP), and found VAM to be 22-30% more effective tool than just drafting by total projected points. VAM is most effective during the early rounds of the draft as evidenced by the graph below. (We ran over 1,000 simulations, basing the incremental gain on the VAM strategy versus employing a straight points drafting methodology through each draft pick.)
After years of using the concept, in 1998 we finally tested the concept using a statistical software package (MATLAB), and found it to be the best overall drafting and trading strategy. We have successfully used and recommended this statistical concept (VAM) for over eight years to over 20,000 fantasy enthusiasts.
Fantistics is credited as being the first group to apply the value based concept (our concept of VAM) to fantasy sports drafting.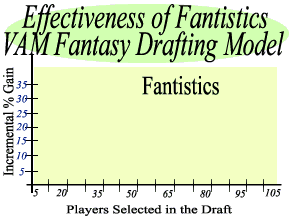 The end result is what we and our loyal subscriber base consider to be the best fantasy football package on the net. A 2 minute download to your PC and within seconds your printing off a ranking sheet that reflects both your league scoring and utilizes our successful projections and drafting model.

* Full Stat Projections and rankings on over 800 NFL players & teams for 2007.
* Includes the same drafting formula (VAM) that has been proven to produce the best draft day scenario.
* Produces Printable "Cheat sheets" tailored to your league scoring.
* Any of the projections can be changed and saved, in essence you can alter our projections and make your own.
* Contains Advanced Player Stats, including key Historical Indicators.
* Easy to Download, set up, and "one click" daily updates.
Click here for an overview of the 2007 Fantasy Intelligence Package
---
Anthony A. Perri is the founder and the resident "Stats Nerd" here at Fantistics. Anthony has a graduate level math education. His decade long involvement in Fantasy Sports includes accolades from some of the top publications in the country as a leading Sports Statistician. Anthony is the designer of the Fantistics Projections Model & the VAM drafting strategy models.